Dance Classes
BURLESQUE BODY SCULPT IS ONLINE!
All online classes/workshops available through House of Funk!
Visit House of Funk: https://hofdanceonline.wixsite.com/houseoffunktheatre-1
May session starts May 3 and runs through May 30th.
*You must rsvp! hofdanceonline@gmail.com
We are also launching a NEW video program to make dancing more accessible and affordable for all our BBS students.  Keep reading to find out more about online classes and our BBS Revolution.
All classes/workshops run in 4 week session and run an hour in length.
Rates for ONLINE CLASSES: $55 (additional classes/workshops at $25 each). UNLIMITED MONTH OF BBS (includes all video access): $100
 Threesome class pass! Try any 3 BBS online classes: $45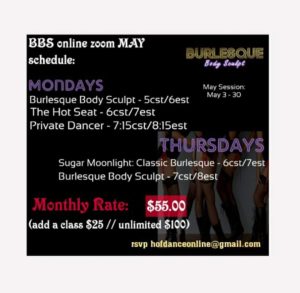 For the month of May these are the  only regularly scheduled online ZOOM classes for BBS:
BURLESQUE BODY SCULPT – Multiple weekly classes! Stretching, toning, & new burlesque dance combo weekly! Available on MON (5 pm cst//6 pm est), THURS (7 pm cst // 8 pm est)
THE HOT SEAT – MON 6pm cst – Work up a sweat while you sizzle and burn in the Hot Seat! Students learn one sultry dance in this chair dance workshop.
PRIVATE DANCER – MON 7:15 pm cst – Be a Seduction Artist. Your body is a tool of Art. Explore and express yourself in this BBS workshop using slow and sensual movement utilizing burlesque dancing, floor dance, and more!
NEW!! SUGAR MOONLIGHT: CLASSIC BURLESQUE, THURS 6 pm cst – Learn classic burlesque dancing in this stylize BBS burlesque dance workshop. New dance combo taught every class.
New Video Program: BBS REVOLUTION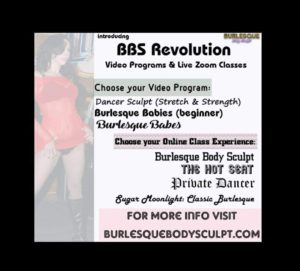 VIDEO PROGRAM ONE : DANCER SCULPT (STRETCH AND STRENGTH)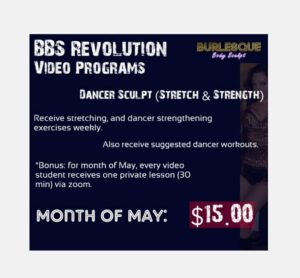 VIDEO PROGRAM TWO: BURLESQUE BABIES (BEGINNER BURLESQUE DANCE)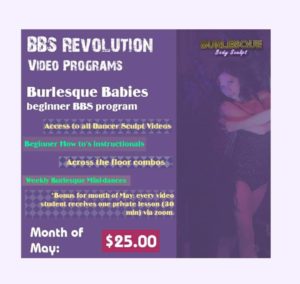 VIDEO PROGRAM THREE: BURLESQUE BABES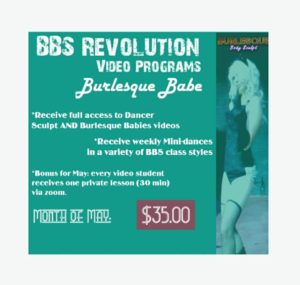 BBS REVOLUTION ALL-ACCESS PACKAGE (unlimited)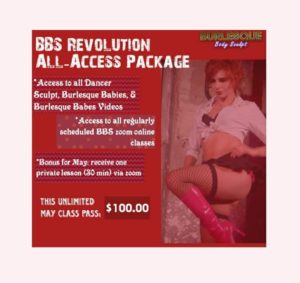 Visit BBS on Facebook here
---