Dance Classes
BURLESQUE BODY SCULPT IS ONLINE! All classes/workshops available through House of Funk!
https://hofdanceonline.wixsite.com/houseoffunktheatre-1
Classes start March 1!
*You must rsvp! hofdanceonline@gmail.com
All classes/workshops run in 4 week session and run an hour in length (except Dancer Sculpt, 30 min class).
Rates: $55 (additional classes/workshops at $25 each). UNLIMITED MONTH OF BBS: $100
One Dancer Sculpt a week: $35 monthly rate
BURLESQUE BODY SCULPT – Weekly class! Stretching, toning, & new dance combo weekly! Available on Mon (7:30pm cst), Wed (8pm cst), or Sat (12pm cst)
TAP & TEASE – Tuesdays @ 6pm cst. A little bit of sexy. A little bit of tap. A whole lotta fun! Step into the spotlight and release your inner showgirl in this beginner tap dance/burlesque combo. *one choreographed dance taught, tap shoes not required
THE HOT SEAT – Tuesdays, 7:15pm cst. Work up a sweat while you sizzle and burn in the Hot Seat! Students learn one sultry dance in this chair dance workshop.
PRIVATE DANCER – Wednesdays, 6:45pm cst. Be a Seduction Artist. Your body is a tool of Art. Explore and express yourself in this BBS workshop using slow and sensual movement utilizing burlesque dancing, floor dance, and more!
BURLESQUE DANCE BASICS – Thursdays, 7pm cst. Learn the basics of burlesque movement, phrasing, as well as the elements of choreography in this sassy BBS workshop.
REDLIGHT RENDEZVOUS – Fridays, 6:45 pm cst. Naughty and sensual is the theme this month. Learn one choreographed dance from the Velvet Kittens repertoire.
DANCER SCULPT (30 min class). Using dancer exercises, build strength for dancing. This 30 min class is a great way to dive back into dancing and reaching fitness goals. Available Wed and Fri at 6 pm cst.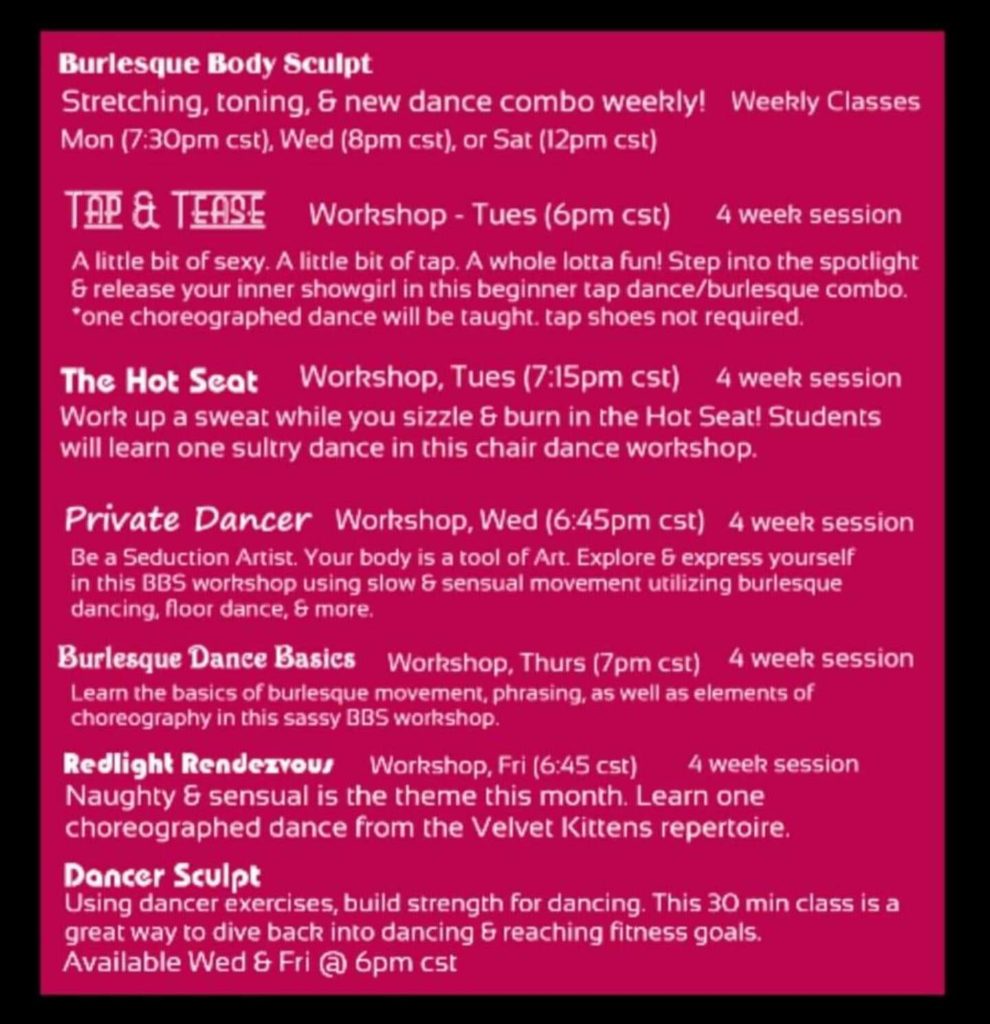 Visit BBS on Facebook here
---